Manhattan prosecutors ask judge to limit Trump's ability to publicize information about his criminal case | CNN Politics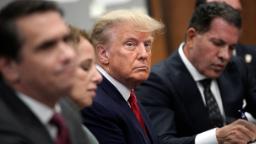 CNN
 — 

Prosecutors with the Manhattan district attorney's office have asked the judge overseeing Donald Trump's criminal case to impose a protective order restricting the former president's ability to publicize information about the investigation.
In a motion, prosecutors told the judge that Trump's team would not consent to a protective order.
"The risk that this Defendant will use the Covered Materials inappropriately is substantial. Defendant has a long history of discussing his legal matters publicly—including by targeting witnesses, jurors, investigators, prosecutors, and judges with harassing, embarrassing, and threatening statements on social media and in other public forums—and he has already done so in this case," prosecutors wrote in the filing.
Manhattan prosecutors have accused Trump of falsifying business records with the intent to conceal illegal conduct connected to his 2016 presidential campaign. The criminal charges stem from Manhattan District Attorney Alvin Bragg's investigation into hush money payments, made during the 2016 campaign, to women who claimed they had extramarital affairs with Trump, which he denies. Trump has pleaded not guilty to all of the charges.
In seeking the protective order, prosecutors cited some of Trump's past attacks on witnesses who previously spoke out against him, including his former personal attorney Michael Cohen and Alexander Vindman, a former national security official who testified publicly during Trump's first impeachment.
They asked the judge to order that Trump only be allowed to view certain material turned over by prosecutors in the presence of his defense counsel and not allow him to copy material designated as "limited dissemination materials."
Specifically, they asked the judge to instruct anyone who receives materials, including grand jury testimony, to not post them on any news organization or social media websites without approval from the judge. They also asked the judge to limit the use of any materials they provide to Trump to defending the present case.
"At the outset, it is important to note that the People are not at this time seeking a gag order in this case. Defendant has a constitutional right to speak publicly about this case, and the People do not seek to infringe upon that right," prosecutors wrote.
Prosecutors also asked the judge to limit the review of images of two cell phones related to a witness in the case to Trump's defense lawyers, saying there is highly personal information included on the phones.
In addition to limiting the disclosure of certain information prosecutors turn over to Trump from becoming public, they also asked the judge to limit the disclosure of identifying information about any support staff working for the prosecution team to the public until jury selection begins in the case.
They cited Trump's past statements about Bragg and the judge in the case.