The Atlanta Braves may win the World Series. But they face a tougher opponent off the field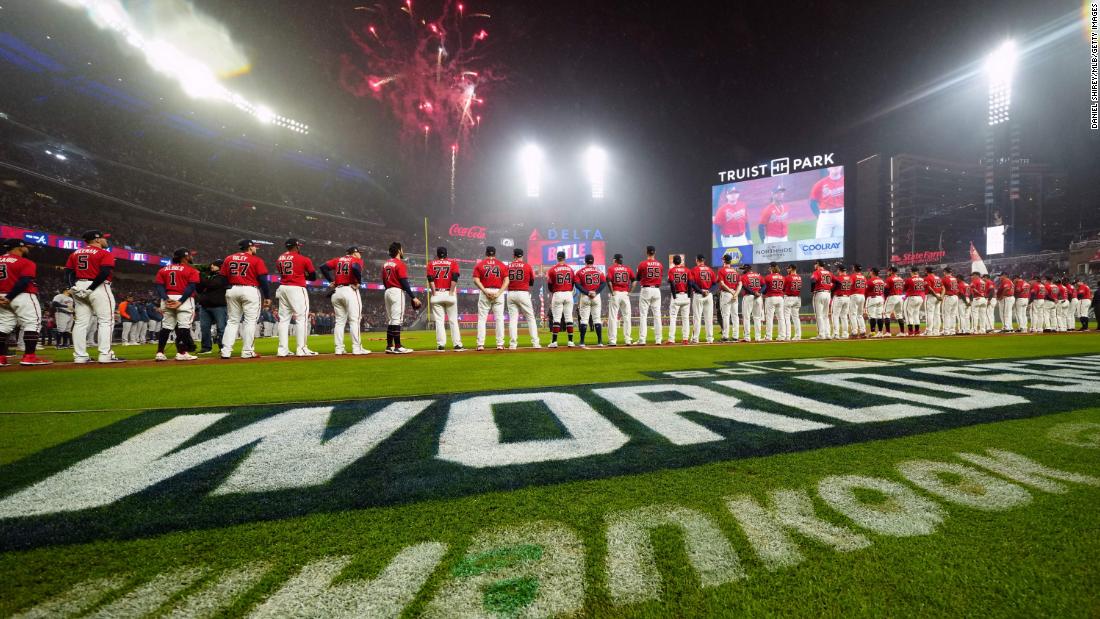 The Atlanta Braves may win the World Series. But they face a tougher opponent off the field
Those Braves teams featured a colorful lineup of Black superstars: Fred "Crime Dog" McGriff, speedy Otis Nixon, two-way star Deion "Prime Time" Sanders and the dimpled chin of David Justice, who was married to actress Halle Berry.
The Braves then were part of the heartbeat of Black Atlanta. Hip-hop artists wore their caps, and legions of Black fans, ushers and street vendors mingled with White fans at the team's ballpark in a historic Black neighborhood near downtown.
"When you go to the game, it has a Trump feel to it with the fan base," says Harris, who is a pastor at Acts of Faith Baptist Church in Decatur, a suburb of Atlanta. "It felt weird for the simple fact that I remember when the stands had a lot more Black people, and a lot more were enticed to games because they had more representation."
I've lived in Atlanta for 30 years, and I've long heard this talk in barbershops and sports bars. Some Black fans say the team has few, if any, African American players they can relate to. Others believe the team left Atlanta because its suburban White fans felt uncomfortable coming to games downtown, where they were surrounded by Black people.
Atlanta, once known as the "city too busy to hate," in recent years has been engulfed by racial turmoil: police shootings of Black men, racial protests and clashes over voting rights. These tensions spilled over into the sports world this year when Major League Baseball pulled the 2021 All-Star Game from Atlanta to protest new state laws that make it more difficult to vote.
A World Series appearance usually brings a city together. But I wonder: Can a Braves World Series victory begin to heal the rift with the city's Black community?
Atlanta's racial tensions go beyond sports
This question may be surprising because of the Braves' history.
The franchise's most famous and beloved player, the late Hank Aaron, was a hero in the Black community. He received racist taunts and death threats when he broke Babe Ruth's home run record in 1974, but the Braves organization embraced Aaron as a symbol of racial reconciliation in his retirement.
Aaron's jersey number, 44, is carved into the outfield grass at Truist Park as a tribute to the Hall of Famer, who died in January.
The Braves also hired Bill Lucas, the first African American to run the player-personnel department of a Major League Baseball team.
The Braves seem aware of this rift. When I contacted them this week about the Braves' relationship to the Black community, team officials sent me a 1,600-word, bullet-point response detailing all their efforts to promote racial diversity: being the first MLB team to create a diversity and inclusion department; creating foundations and career days to recruit players and front-office talent from historically Black colleges; and offering an array of community programs to promote baseball in Atlanta's Black neighborhoods, among others.
But bullet points can only go so far when the tension between the Braves and some of its city's Black residents goes beyond sports.
Part of this is a byproduct of the city's tense racial and political climate. Consider any explosive racial issue you can think of — White flight, voter suppression, racial protests, the killings of Black people on video — and it has somehow detonated in Georgia in the past few years.
Three White men are now on trial for the killing Ahmaud Arbery, a Black man, in February 2020 while he was jogging in a coastal city in south Georgia.
And in March, over furious protests by Black voters and Democrats, the Republican-led Georgia legislature passed one of the nation's most racially restrictive voting laws.
The Braves 'Tomahawk chop' is getting political
Sports and politics aren't supposed to mix. But Georgia's current Republican governor ignored that adage during the Braves' playoff run this season.
Kemp tweeted: "While Stacey Abrams and the MLB stole the All-Star Game from hardworking Georgians, the Braves earned their trip to the World Series this season and are bringing it home to Georgia. Chop On, and Go @Braves."
But the Braves have so far resisted a name change, saying in a 2020 letter to season ticket holders that "We will always be the Atlanta Braves" and citing the team's relationship with regional Native American groups.
To some fans, especially after the racial reckoning over George Floyd, this stance seems racially insensitive.
A lesson from the Atlanta Hawks
Even Atlanta's sprawling geography contributes to this rift between the Braves and the city's Black community.
The city of Atlanta is 51% Black, but many suburbs, in places like Kennesaw and East Cobb County, are predominately White. As someone who has worked in downtown Atlanta for more than 20 years, I've seen a racial divide in the city's fan base.
The crowds for Falcons and Hawks games, in the city's downtown, are filled with Black and brown faces. But the throngs of Braves fans who passed through on their way to Turner Field were noticeably whiter. And some White fans looked palpably nervous as I watched them navigate Black crowds on their way into the Hawks' arena and Falcons' stadium.
Talking openly about these racial optics is what got a former owner of the Hawks in trouble not too long ago.
Levenson said crowds at the Hawks' arena were "70 pct black" and that they "scared away the whites."
One writer said Levenson's sentiments were not unique in the Atlanta sports world.
"There are people who believe that the Braves are for straight Christian White people," says Wilborn, who writes for AL.com.
The many challenges facing the Braves
One of the biggest obstacles the Braves face in erasing that perception is a primary cause for the rift: the team's decision to move to a predominantly White suburb for the 2017 season.
Team officials said at the time that they left Turner Field downtown because there wasn't enough parking and reliable mass transit. The Braves now play in Cobb County, near a constellation of primarily White suburbs north of Atlanta.
The move reminded some of a big-league version of "White flight," the historical pattern from the 1960s and 1970s in which White residents fled urban neighborhoods across the country for the suburbs when Blacks moved in.
Harris says the scarcity of African American players on the Braves is part of a bigger issue.
"What the Braves are dealing with is not just an Atlanta problem — it's a major league problem," he says.
What a Braves victory could do for the city
Winning, it's been said, cures everything.
A Braves World Series title may not heal all wounds with Atlanta's Black community, but it could help the team recapture some fan loyalty from an earlier era.
"When you have the opportunity to talk about something other than the things that divide us, it's a great opportunity. African American fans like winners. If they win a championship, I think a large majority of the metro Atlanta area, which is diverse, will start to come together and support the team."
If the Braves win, where they hold their victory parade could also be key. When the team last won a championship in 1995, they celebrated with a parade in downtown Atlanta. I was a bystander. The crowd looked like a mini-rainbow coalition as Black, White and brown fans lined up to cheer the players.
If the team holds a victory parade downtown this year instead of in Cobb County, it could send a signal to Black Atlanta that the Braves haven't forgotten them, says Harris, the sports talk-show host.
"Sports definitely can be used as a healing agent," he says. "It would show a lot of character for the Braves to go and connect with the Black community, especially when they're on top."
If that happens, this World Series may be memorable for something other than athletic achievement. The Braves would no longer be such a symbol of the city and state's racial divisions.
They would become part of the solution.
That kind of victory won't be as dramatic as a walk-off home run in the bottom of the ninth. But in a city and a region in desperate need of racial healing, it would still be a grand slam.