PPP forms committee for political consensus over TTP talks | The Express Tribune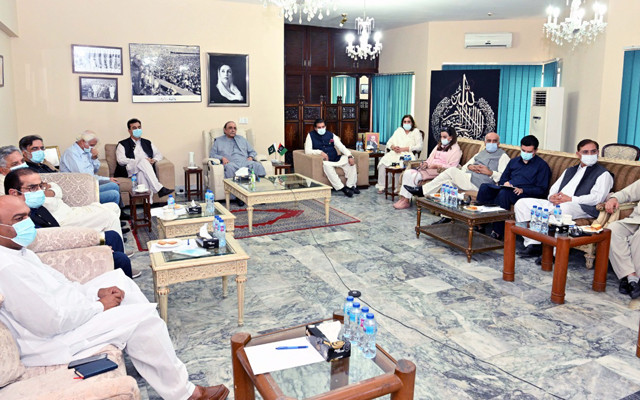 Pakistan People's Party (PPP) Chairman Bilawal Bhutto-Zardari has formed a three-member committee to liaise with political parties on the recent developments related to talks with the Afghan Taliban and the banned Tehreek-e-Taliban Pakistan (TTP).
The three-member committee comprises Sherry Rehman, Farhatullah Babar and Qamar Zaman Kaira, and will take other political parties on board over the matter.
The development came after a series of meetings were held between representatives of Pakistan and the outlawed TTP in Kabul to broker a peace deal. The Afghan Taliban are acting as a mediator. A tribal jirga, comprising elders, politicians and others from erstwhile tribal areas, also visited Afghanistan and met the TTP leaders. The flurry of meetings led to the TTP announcing an indefinite ceasefire.
In light of this development, a meeting of the party's central leadership was held on Saturday. The party reiterated its commitment to make the parliament the first and only forum where such issues could be discussed.
Following the meeting, PPP Secretary General Farhatullah Babar said that the party believes that all decisions must be taken in the parliament.
The PPP chairman, who also holds the portfolio of foreign minister in Prime Minister Shehbaz Sharif's cabinet, also took to Twitter to reiterate his party's position. "[The] PPP held a high-level meeting to discuss the issue of terrorism, particularly in light of recent developments in Afghanistan, with the TTA (Tehreek-i-Taliban Afghanistan) & TTP. PPP believes that all decisions must be taken by parliament," he wrote.
"[The] PPP will be reaching out to allied parties to create [a] consensus on the way forward," the foreign minister added.
The meeting was attended among others by two former prime ministers – Yousuf Raza Gilani and Raja Pervaiz Ashraf, and other senior leaders of the party.